"Size Doesn't Matter" exhibition in Stockholm 3.05-27.05.2016
28.04.2016
The Estonian Association of Designers (EDL) has developed the concept of "Size Doesn't Matter", which contrasts the smallness of the land and the density of designers and the abundance of the achievements, in order to introduce Estonian design in foreign countries. The collection consists of high quality small print run products, basically of the best pieces of the designers makers and of new innovative industrial products. The exhibition includes products related to furnishing of the home: textiles, furniture, lighting, ceramics, glass, wheels and fashion accessories including bags, shoes and jewelry. Nearly 50 designers are represented including meritorious as well as a newly graduated young promising designers who have received awards both in Estonia and abroad. The crisp collection is characteristic to the Nordic country - characterized by a minimalist style, natural materials, ingenious solutions and humor.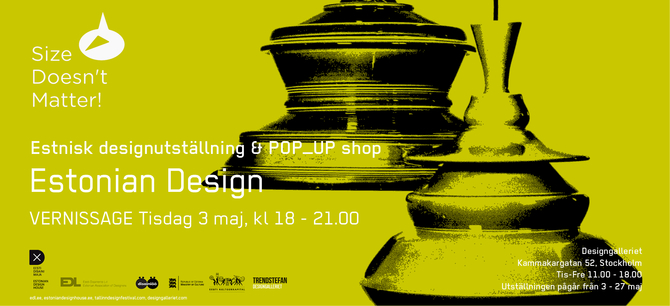 This exhibition has been travelling from Tallinn to Brussels, London and Vienna. Now we are glad to introduce such a large range of Estonian design first time in Stockholm. In winter the exhibition will travel to Les Boréales Festival in Caen and the next stop will be in Paris.
The exhibition is represented by: Mare Kelpman, Tarmo Luisk, Martin Saar, Monika Järg, Stella Soomlais, Johanna Tammsalu, Andres Labi, Kärt Põldmann, Sille Sikmann, Piret Loog, Elmet Treier, Toivo Raidmets, Reet Aus, Tõnis Vellama, Keha3, Maile Grünberg, Tanel Veenre, Karl Annus, Kärt Summatavet.
The idea and curator: Ilona Gurjanova (Estonian Association of Designers, President) Scenography: Tõnis Vellama (Estonian Association of Designers, board member) + team
The exhibition is accompanied by a small pop up shop by Estonian Design House.

The project has been supported by Estonian Ministry of Culture, Estonian Embassy in Sweden and Cultural Endowment.